Welcome
It is my hope and prayer, that after spending some time exploring this website, you will make the decision to visit us in person. You will find a warm and welcoming family of faith that will remind you that when you feel you belong perhaps nowhere else, you belong here at Covenant. Welcome Home.
         – Pastor Lisa Perkins
Location
We are located in Sherman, Texas at the corner of Pecan and Rusk Street across from Piner Middle School and Kidd Key Park. Our address is: 322 West Pecan, Sherman, TX

Parking & Building
Parking is available behind the church. You can access it from Pecan Street or W Laurel Street. There is also street parking available on Rusk Street on both sides as well as limited street parking on Pecan Street. Parking at Piner Middle School is also available. To access our Handicap parking, come in from Pecan Street.
Parking Map: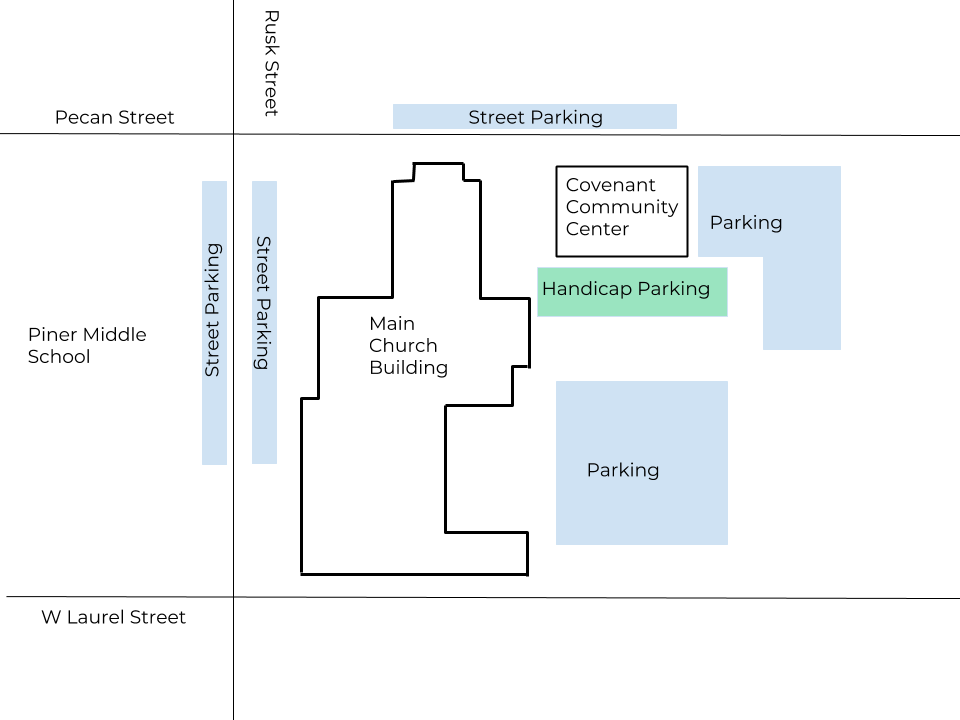 Building Map: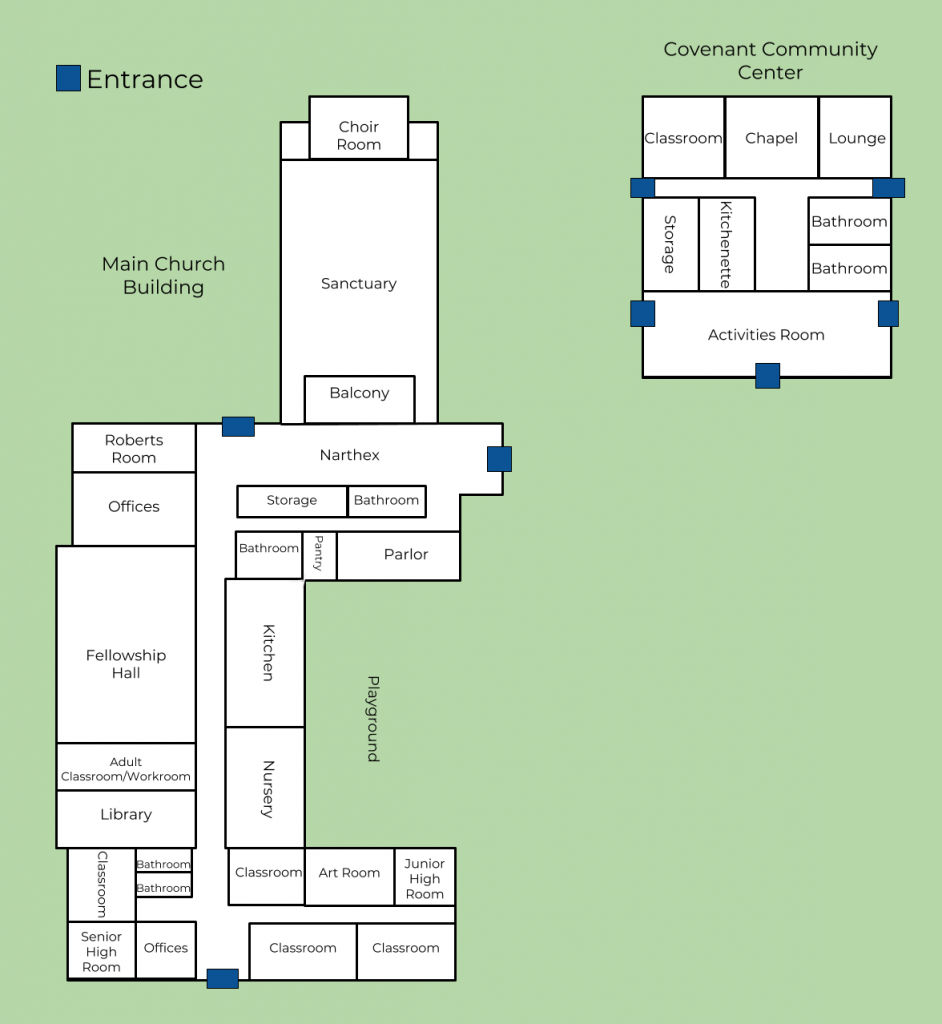 Time of Worship
Worship begins every Sunday morning at 10:50 a.m. in our Sanctuary. People start arriving around 10:30 up until the service starts. Our Greeters and Ushers can help answer any questions you might have. They can also direct you to our Welcome Table for you to find out more information about us. You can sit in our Sanctuary or go up the stairs and sit in the Balcony both of which are accessible in our Narthex. Where ever you feel comfortable, there is a place for you.
What to Wear
When you join us for worship on Sundays, you will find people in a suit and tie or dresses, but you will also find people in jeans and shirts. We have a "come as you are" dress policy. From flip flops to button downs, we want you to feel comfortable when you worship with us.
Before Worship
We have a free community breakfast ministry called, A Place at the Table, open to anyone who finds themselves hungry. We provide a hot meal for many which include the homeless of Grayson County but also many members of our church join in the meal. A Place at the Table is open from 8:30 a.m. to 10:00 a.m. Sunday mornings.
Sunday School classes are offered at 9:30 a.m. Sunday mornings for all ages.
Learn More:
Style of Worship
Covenant Presbyterian Church has one worship service at 10:50 a.m. and it is structured in the traditional Reformed worship style. We sing hymns, listen to scripture, recite prayers, and hear a sermon from our Pastor Lisa Perkins.
Learn More:
Children
For babies to toddlers (0-5-year-olds), our Nursery is available during Sunday School and Worship.
Learn More:
Kindergarten through 5th-grade children has a Sunday School class offered and are encouraged to attend worship with their families. Activity bags are provided in the Narthex for children to use during worship.  
Learn More:
Youth
6-12 Grade students are invited to attend our Sunday School class on Sundays beginning at 9:30 a.m. in the Senior High Room. Youth group meets Wednesday nights at 6:00 p.m. in the Senior High Room. Throughout the year we offer mission trips, various conferences, camps, and events for our youth to participate with other churches locally and nationally.
Learn More:
Adult Involvement
On Sundays, we offer various classes at 9:30 a.m. We explore short-term series and speakers, Bible studies, and current events. During the week, we offer Bible studies and activities such as Men's Breakfast, Covenant Readers, and Young Women's Group. There are many ways for you to participate and become active in ministry at Covenant.
Learn More:
How to Join
We would love for you to consider becoming a member of our church community. If you would like to join, contact Pastor Lisa Perkins and she will get in touch with you to begin taking steps to become a member.
Learn More:
Meet the Staff
We have a wonderful staff that leads the church and help develops the community we aim to become.
Learn More:
Covenant Presbyterian Church